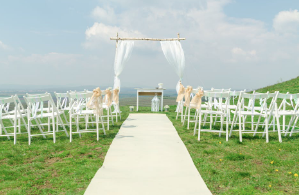 With the average cost of an American wedding reaching a staggering $34k, millennial couples are going to extreme monetary lengths to ensure their big day is as unique as possible! From seemingly never ending guest lists, to high-end wedding invitations, soon-to-be brides and grooms everywhere are sparing no expense when creating a one-of-a-kind wedding ceremony. At Cabaret Tent and Party Rental in NYC, our wedding experts are here to tell you that there's no reason to go into debt over all of your wedding plans! Regardless if your wedding budget is large or small, our team has detailed the best money saving strategies to help you cut out unnecessary costs, giving you and your family financial flexibility and room to breathe:
Cut Back On Your Guest List
One of the easiest and most effective ways to cut costs for your wedding is to whittle down your guest list as much as possible. While it may be tough to eliminate certain guests you originally wanted to invite, even a few deductions from your list can save you a substantial amount of money. For example: If you are able to eliminate 50 guests from an original list of 150, and your wedding plan comes to $100 per person for food and beverages, you'll save upwards of $5,000!
Choose A Simplified Wedding Venue & Style
The more formal you're planning your ceremony and reception to be, the more expensive it will be! Instead of making your wedding a black tie affair with a sit-down dinner, opt for a brunch reception or a BBQ style meal. When choosing your venue, look for places that can increase your weddings wow factor without extra expenses. From sandy beaches to the serene wilderness, there are plenty of ways to have a beautiful setting for your ceremony without needing a lot of additional add-ons. Another easy way to cut costs is to book your wedding and reception at the same venue!
Cabaret Tent and Party Rental offers state-of-the-art tent rentals that are perfect for any scenic outdoor wedding! From classic white pole tents to elegant and modern clear top tents, we guarantee that our tents are budget friendly. Additionally, we offer tent A/C and heated tents to help you and your wedding guests stay comfortable any time of the year!
DIY Your Wedding Invitations
When searching for your favorite style of wedding invitations, pay attention to fancy paper styles, embossed typography, decorative envelope linings, and custom-colored inks. All of these elements can drive up the price of each individual invitation, and they can also increase the postage pricing! If you have the chance, get crafty and DIY your wedding invitations. From printable wedding invites at home, to hand-drawn envelope art, there are plenty of do-it-yourself techniques that will help you cut costs for your big day!
Wedding Transportation
If possible, always opt for a town car over a limousine! Town cars look just as streamlined and sleek as limo, getting you from your photoshoot to your ceremony in style. If booking a limo is something you've dreamed of, make sure not to get a stretch! Stick with an average-sized limo, and make sure to only book one for the soon-to-be newlyweds. Other ways to cut transportation costs can be to have the wedding party carpool, take cabs and/or Ubers, or all pile into regular town cars!
Dinner & Drinks
By reducing the amount of dinner courses you're serving, you can reduce the overall expenses of your catering services! Good food is about quality over quantity, so having two or three courses to choose from that are in season for your region will be plenty to keep all of your guests happy and full. If you wedding venues allows it, make sure to provide your own alcohol! Most catering companies and wedding venues will dramatically increase alcohol prices, so it's best to shop savvy on your own dime!
To ensure all of your guests have the best dining experience possible, Cabaret Tent and Party Rental offers table and chair rentals of all types and sizes! From mahogany chiavari chairs, to circular banquet tables, we're positive your guests will have a great dinner experience at your wedding reception. Additionally, we offer high-quality portable bars and glassware that will match perfectly with your wedding decor, helping your reception staff sling drinks to your guests quickly and efficiently.
Your Wedding Cake(s)
When choosing your wedding cake, order a multi-tiered cake with the specific design you love…but make sure to order several plain sheet cakes of the same flavor to feed all of your guests! Try to stay away from overly decorative cakes for your friends and family, as tiers, handmade sugar flowers, fondant, and specially molded shapes will rapidly increase the costs!
World-Class Wedding Rental Equipment In NYC!
At Cabaret Tent and Party Rental, our staff will make sure you wedding day is one you'll always remember! From fully equipped coffee bars to keep your wedding guests dancing all night long, to gorgeous tents that are a perfect match for your outdoor ceremony or reception, Cabaret Tent and Party Rental is your premier source for wedding rental equipment throughout the entire Tri-State area!
Our wedding rentals include:
Call Cabaret Tent and Party Rental In NYC Today For All Your Wedding Rental Needs!
Regardless of how large or small your wedding will be, there are a few fast and effective ways to cut costs where it counts! From DIY wedding invitations with homemade illustrations, to opting for simply designed sheet cakes for your guests, we guarantee that you'll be able to create a gorgeous event while sticking to a tight budget. For more information on New York City's leading wedding rental service, feel free to get in touch with us at Cabaret Tent and Party Rental today!