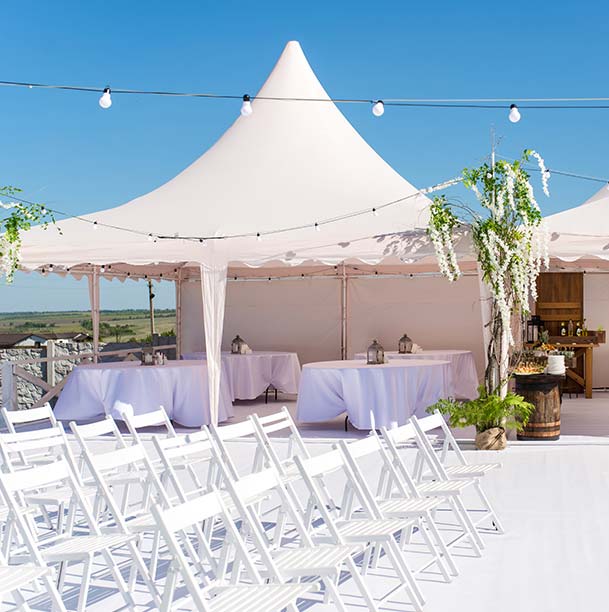 Add Sidewalls To
Enhance Your Tent
With the many tent choices we have at Cabaret Tent and Party Rental, you are sure to find the style that fits your event, season and budget. But don't stop there. With the changing New York City weather, you'll want to get the most protection and functionality from your tent. We have a variety of sides or sidewalls that you may want to add to your tent choice. Sidewalls are important for keeping the elements away from your guests like wind, rain, cold and heat. They can also help separate different areas of an event, give a private space for your guests, reduce the invasion of bugs and pests, and shield event-goers from the elements.

Types Of Sidewalls At
Cabaret Tent and Party Rental
Whether it's your own backyard, or a spot in Central Park, our heated tents can warm up even the chilliest night. Your guests will love the inviting warmth of our heated tents at your next holiday party. Or ring in the New Year with confidence, knowing no cold is too cold for our powerful heaters. And, you don't have to put off holding that family or company social event waiting for the spring to arrive.
Solid White Sidewalls
If you need or want privacy at your event, or you want to protect what's inside your tent from rain or wind, solid white sidewalls are your best choice. These sidewalls, made from commercial-grade heavy vinyl, can also provide dividing lines to separate spaces or hide unattractive equipment in a "backstage" area of your event. White sidewalls will make the inside of your tent darker and you can also use a blockout material to further reduce outside light. guests in style.
Clear Sidewalls
These clear vinyl walls are one of our most requested types of sidewalls because it gives your guests the best of both worlds. They can see through the sides to view the beautiful New York City area location you've selected for your event, but they are still able to party at a comfortable temperature using our air-conditioned options. They are also protected from the elements of wind or rain and insects. The inside of your tent will be brighter compared to using a solid white wall, as they allow the outside light in.
Window Sidewalls
If you're having trouble deciding between the privacy of solid sidewalls and the openness of clear sidewalls, these arched-panel window sidewalls may be your perfect compromise. The look allows the ambient light in, allows your guests limited views outside, and effectively imitates the look of a ballroom or a house. Window sidewalls provide the same protection as our solid sidewalls as they are secured to the base.
Mesh Sidewalls
Mesh sidewalls are the newest entry into our sidewall collection and can be quite versatile. They are constructed from a coated mesh fabric and the allow airflow on all sides while keeping out most insects and any blowing leaves or debris. These sidewalls can deflect light rain or drizzle, but they will not protect against downpours or blowing rain. You can use them in conjunction with any of the other types of walls to have a solid blocking wall, if you choose. Mesh sidewalls can also be custom-printed with any full color design or image to personalize and/or brand your event in a unique and memorable way.