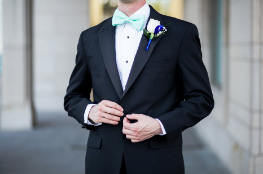 Here at Cabaret Tent and Party Rental in NYC, our team knows that planning a wedding isn't just for the bride-to-be! From nailing down a guest list to deciding on the perfect reception venue, planning for an entire wedding can be a stressful undertaking on your own. With countless ways your groom can get involved with the planning process, you can rest easy in knowing that your future hubby can help take some of the workload off your shoulders. Below, our staff has detailed a few simple tasks your groom can oversee before your big day gets here!
Have Him Help When Creating The Guest List
Have your groom provide a list of the friends and family he wants at the wedding! Additionally, he is also responsible for finding out who his parents would like to invite (with correct salutations and addresses). Make sure he's the one to track down all of his own friends' addresses, as you wouldn't normally have them in your own contact list.
Make Him Warden Of His Groomsmen
After your future husband has decided on his groomsmen, it's his job to make sure they are all properly invited! After the invitations have been sent, he needs to make sure every groomsmen stays up-to-date with their suit fittings, as well as all of the details about pre-wedding activities and schedules. If he's having a tough time on his own, have him utilize his best man to help coordinate the group. Make sure he knows that he's responsible for his half of the bridal party!
Make Sure He Selects Gifts For His Best Man & Groomsmen
In order for your groom to show his appreciation for his best man and his groomsmen, he needs to take the time to pick out personalized gifts! These gifts will show how thankful he for them to take the time to be by his side during his wedding, and for years of support and friendship.
Let Him Track Down His Missing RSVPs
It's your groom's responsibility to track down any missing RSVPs from his side of the guest list. If applicable, he needs to get any dinner information from each and every invitee at the same time! Your groom needs to follow-up and be accountable for his half of the wedding guest list.
Have Him Help With Your Wedding Registry
Make sure your groom is closely involved when selecting items for your wedding registry, as you both will be utilizing the gifts your family and friends will be giving you! Let him know that the gifts you'll be receiving are needed to help start your new chapter in life together, so they shouldn't be one-sided.
Ensure He Stays On Top Of The Rehearsal Dinner
Have your groom check in with your officiant and make sure both sets of parents and all wedding-party members know when and where to show up for the rehearsal dinner. Taking the whole rehearsal dinner off your plate is a kind gesture and will greatly reduce your stress!
Make Him Plan For Your Honeymoon
When referencing traditional wedding etiquette, one of the groom's main responsibilities is planning for your honeymoon! While you both will most likely want to go over honeymoon details together, booking your honeymoon is definitely one his primary duties. Even if you are involved in the booking process, he can still go out of his way to plan fun excursions and dates you won't know about until you get there!
Contact Cabaret Tent and Party Rental In NYC Today For Your Wedding Rental Needs!
Stressing out about planning your wedding by yourself? Make sure to let your groom know that there are a ton of simple tasks he can do to help make the process easier on you both! From helping you create a comprehensive guest list to staying on top of the rehearsal dinner, your soon-to-be husband can be an integral element to adequately planning your big day!
To find out more about our world-class wedding equipment rentals at Cabaret Tent and Party Rental, don't hesitate to get in touch with us today! We look forward to helping you make your special day one you'll always remember!