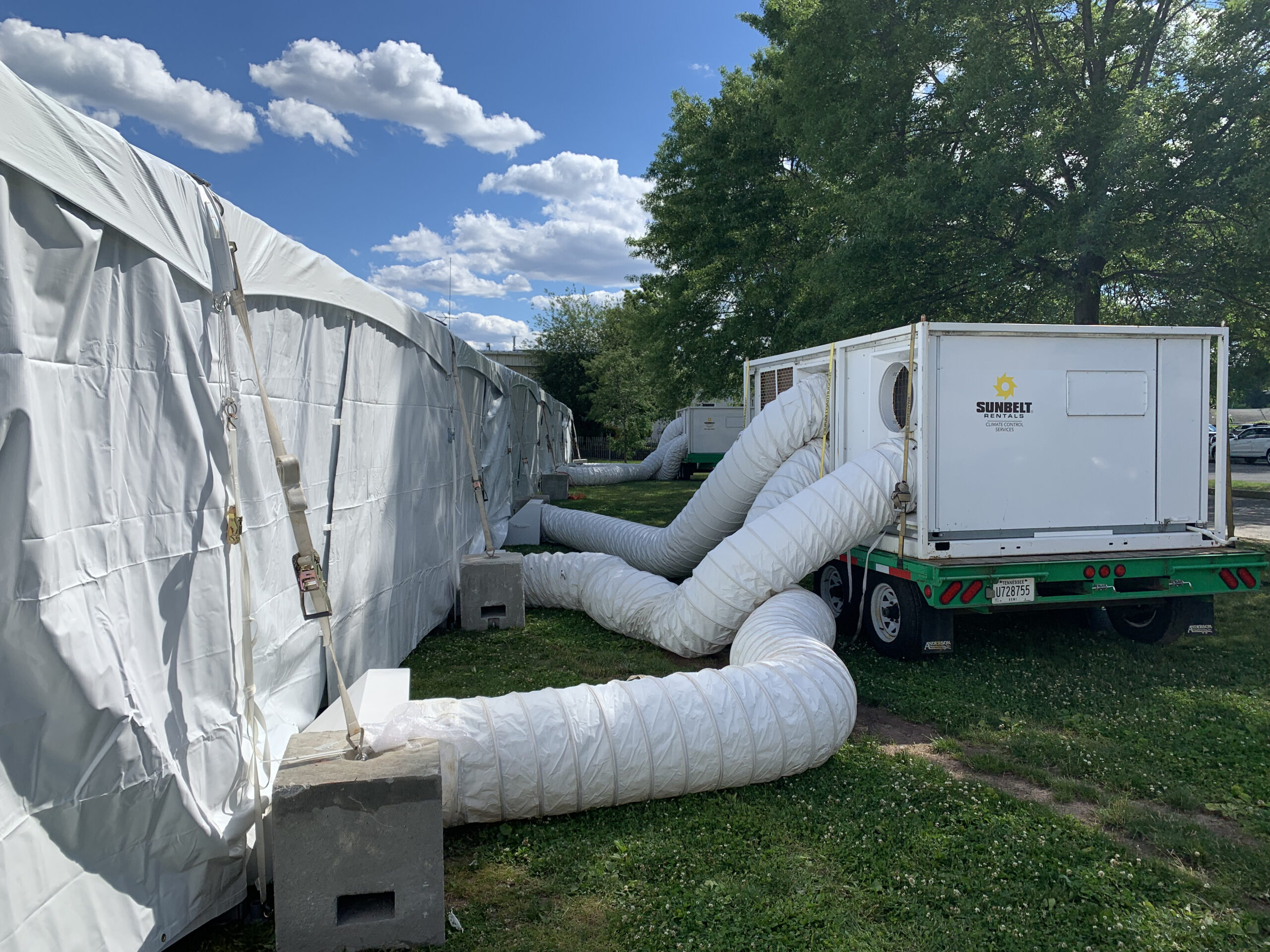 Climate Controlled Tents at
Cabaret Tent and Party Rental
There is not a more beautiful place to hold a party than New York City. But when the skies turn gray and the temperatures begin to drop, you may be apprehensive about planning an outdoor event. Let the party experts at Cabaret Tent and Party Rental alleviate all your fears. Our heated tents will not only protect your guests from the elements like rain, sleet and snow, but they will also keep your guests toasty warm no matter what the northeastern weather brings.
Hot time in the City? Don't give up on the beautiful New York summer as a potential wedding day, festival or other special event for fear of the heat. Whether you're planning your event on Long Island's waterfront park, the Bronx Zoo's garden or one of the many beautiful mansions in the area, a Cabaret Tent and Party Rental tent rental can keep your guests cool and comfortable by adding air conditioning.

Advantages of
Air Conditioned Tents
Event planners and corporate executives love working with the event specialists at Cabaret Tent and Party Rental because of their knowledge and expertise in recommending just what you need. If you're worried about your guests melting in the heat and humidity of the summer months, you can add sidewalls with air conditioning and cooling fans to any of our variety of tent rentals. Not only will this equipment cool down your guests, it removes excess humidity making the heat feel less hot! You can still choose from our canopy, clear top frame and high peak frame tent types along with white, clear, or windowed sidewalls. Tents will naturally protect your guests from the hot sun, but they can also be a protection if one of New York's famous pop-up showers happens during your event.

Cooling Options at
Cabaret Tent and Party Rental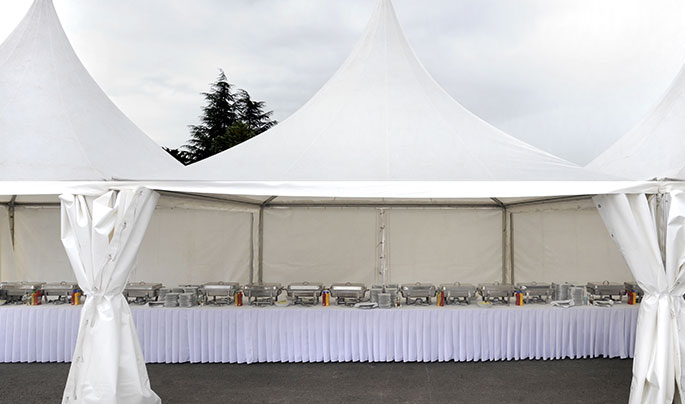 Cabaret Tent and Party Rental offers three different tent air conditioning options, depending on your cooling needs:
Fans. Cabaret Tent and Party Rental can add pedestal and floor fans to your tent to help circulate the air and keep your guests cooler when temperatures are mildly warm.
Portable evaporative cooling systems. These spot coolers are recommended if you only need to lower the temperature less than 20 degrees. They blow out a cool mist that hits your hot skin and then cools it when it evaporates. They don't require as much electricity and can disperse cool air up to 100 feet. Clearly, these are not recommended for formal affairs.
Portable air conditioners. For more formal occasions, opt for the portable air conditioners. These units will drop the temperature inside your tent 30 to 40 degrees and will also reduce the humidity levels. They come with a thermostat so that you can adjust the temperature inside the tent.

Renting a
Heated Tent
Whether it's your own backyard, or a spot in Central Park, our heated tents can warm up even the chilliest night. Your guests will love the inviting warmth of our heated tents at your next holiday party. Or ring in the New Year with confidence, knowing no cold is too cold for our powerful heaters. And, you don't have to put off holding that family or company social event waiting for the spring to arrive.

Advantages of
Heated Tents
Versatile Protection From The Cold
Event planners love Cabaret Tent and Party Rental, for our variety of sizes, types and colors of tents. No matter what size your party, we have a tent that will fit your needs and your budget. And, to protect your guests from the unpredictable New York cold, you can add a variety of side panels to your tent choice, along with a heater, for full waterproof, heated protection. You're sure to get the look you want by selecting from canopy, clear top frame and high peak frame tent types along with white, clear, or windowed sidewalls. Let us help shelter your guests in style.
Powerful Heating Capacity
At Cabaret Tent and Party Rental, we're not providing your guests with those small, mostly ineffective tabletop heaters. Our Frost Fighter IDF350 (or equivalent) tent heaters are being vented and indirectly fire 300,000 BTUH of heat to keep your guests comfortably warm. With an easy-to-use thermostat, you can adjust the heat to your guest's preferences. This ductable heater features a fuel-saving, high-efficiency heat exchanger. And with nearly a 28-gallon fuel capacity, it gives your event up to 13 hours of uninterrupted warmth. This is the ideal heater for supplying your guests with dry, clean, heated air into tents for parties, work areas or any other event in style.
Convenient Setup
When you rent any tent from Cabaret Tent and Party Rental, you never have to worry about setting things up correctly and having your tent ready for your guests. Our qualified installers take all the worry out of setting up your tent and installing your heater in the exact location you desire. We'll show you how to control the thermostat and make sure you are comfortable with the process before leaving the premises.
Application
Heated tents are the answer you've been looking for to make your cold-weather events a success. The same quality tents that you can rent for weddings, reunions, corporate events, festivals and reunions can be transformed into a warm-weather paradise during those cold New York City winters.