The holidays are here, and people everywhere are gearing up for a season full of holiday parties and events. If you're planning one right now, chances are you're feeling a little underwater – and that's normal. Planning an event or party is hard work, and it takes a close focus on detail to make sure every little piece gets taken care of and the whole thing runs smoothly. To lighten your load a little bit this year, we've put together a comprehensive winter party checklist. Whether it's a corporate party, a holiday gathering, or another event entirely, this checklist will make it a little easier to keep track of all the things you'll need to make your party a success!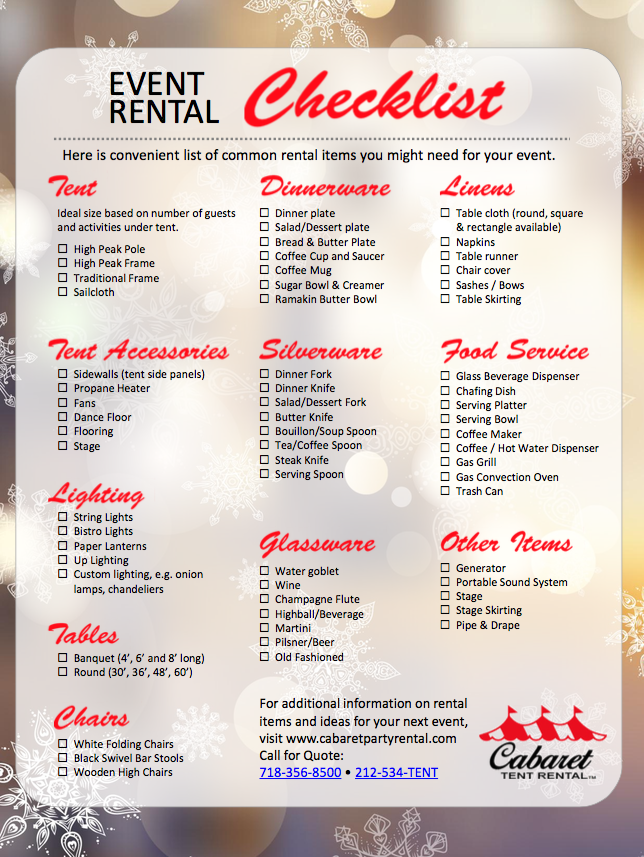 Contact Your New York Party Rental Experts
As you can see, planning a party takes time, dedication, and a lot of equipment – and trying to rent all the equipment you need from multiple vendors can be a nightmare. If you want to simplify the process, Cabaret Tent and Party Rental would be happy to help. We are a full-service party rental company, offering everything from tents in any size to smaller items like glassware and lighting. Want to find out how we can help make your next party a smashing success? So do we. Call us today at (718) 356-8500!