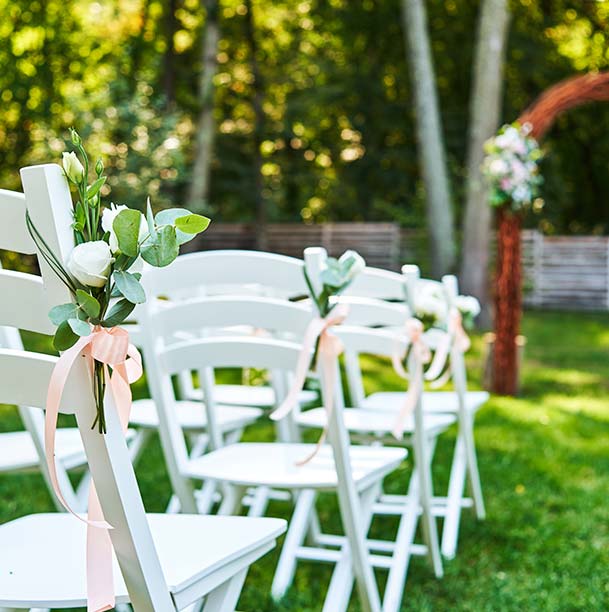 Whatever the event you're planning, one thing is for sure: you don't just want to accommodate your guests, you want to give them an unforgettable experience in New York City. At Cabaret Tent and Party Rental, we're committed to helping you do just that. We've helped hundreds of events go off without a hitch, and with our extensive inventory of NYC tent rentals, bars, event floors, and more—we carry everything you need to make your upcoming event or party a remarkable success.
Tables & Chairs
We offer a variety of chair and table rentals for events of all sizes. From banquet tables, kids' tables and tall cocktail tables, to Chiavari chairs in multiple styles and finishes, you're sure to create the perfect seating arrangement for your guests. Our NYC chair rentals and table rentals provide comfortable, stylish seating accommodations at a price point that is right for you.
Platforms & Staging
As one of our most popular wedding rentals in New York, our high quality stages and platforms are durable and ready to be the centerpiece of your event. Whether you have a great lineup of key speakers, or a full band ready to get the party going, we have staging options in a variety of sizes and configurations, and our experts are always available to help you determine the ideal stage for your space or event.
Lighting
Atmosphere is everything, and lighting has the potential to take your NYC event from average to amazing. From modern globe and filament lighting to chandeliers of all styles, you'll find the lighting option that fits your style, budget and aesthetics.
Event Flooring
No party or wedding is complete without a dance floor. Cabaret Tent and Party Rental is pleased to offer dance floors in styles ranging from rustic to retro. Whatever the look and feel of your event, our flooring will complement it perfectly. We're committed to making the process simple, easy and fun!