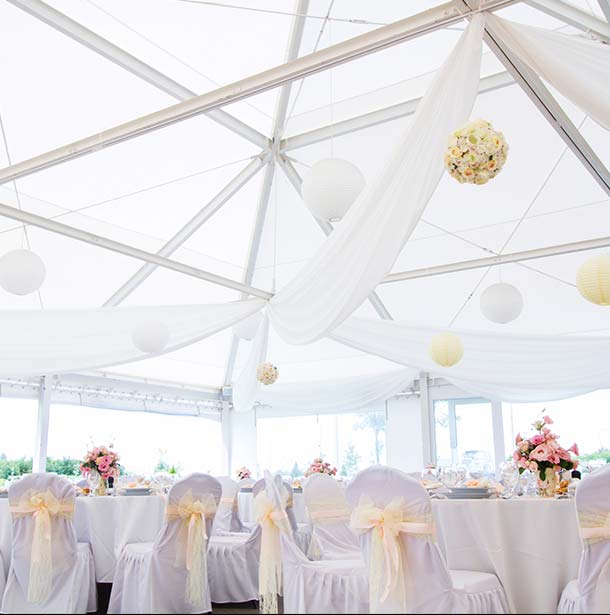 Party & Event Rentals
in New York City
At Cabaret Tent and Party Rental, our mission is to turn your event ideas into a stunning reality. We have years of experience facilitating events both big and small, and we carry an extensive inventory of tents, tables, and other equipment to help make any event a success. We are committed to customer satisfaction, and we'll work with you from day one until the day of the event to make sure everything runs smoothly and you see your biggest ideas and boldest dreams realized.

Rise Above the Crowd
with Event Staging & Platforms
Whether you're looking forward to a couple of key speakers or you have a full band ready to rock the crowd, event staging is a crucial part of many events. Stages give a centerpiece to the entire layout of the event, and nothing gets a party going like a live band on a big stage. At Cabaret Tent and Party Rental, we carry a line of durable, rugged, high-quality event stages that will stand up to anything you throw at them – and they're sure to provide hours of entertainment for you and your guests. We carry both skirted and non-skirted stages and platforms in a variety of sizes and configurations, and we'll work hard to meet your specifications and provide you with a stage that's perfect for your next event.
Not sure what you need? Don't worry. We have years of experience designing events of all sizes and budgets, and we'll work with you to determine the ideal stage for your space and event. And if you need design help beyond just the staging, we've got you covered: our event experts will talk with you to translate your ideas into a concrete, actionable plan.
Bil Jax High End
Staging/Platform
Bil Jax High End
Staging with Skirting