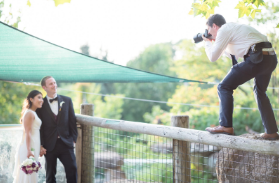 With so many wedding expenses around every corner, gratuities for your big day can add up quickly! From hiring a top-notch catering company to booking a quality photographer and videographer, it can be easy to lose sight of the proper tipping etiquette for each and every wedding vendor that helps you create a day to remember! Here at Cabaret Tent and Party Rental, our expert team his simplified the tipping process by detailing how, when, and what amount you should tip each of your wedding professionals:
Catering Company
If your contract with your catering company doesn't already include gratuity, you should tip 15 to 20 percent of the total bill. Another way to tip is offering $50 to $100 for each chef, as well as $20 to $50 per server.
Wedding Planner
Wedding planners don't expect a tip, so throwing them a little extra money is dependent on their service! If you were given a massive discount or the planner went above and beyond their contracted services, offering a tip of 10 to 20 percent is a nice way of showing your appreciation for their hard work and extra effort.
Photographer and Videographer
With your wedding photographers and videographers, you're not required to tip them if they own the studio. If they are employees of a larger photo studio, consider giving them an extra $50 to $200 as a nice gesture. If there are two or three shooters, giving a $50 to $100 tip to each person (who doesn't own the business) is optional.
Wedding Reception Staff
Your wedding reception staff includes the on-site coordinator, maître d' and banquet manager. A service charge of two percent is almost always built into the food and drink bill, so check your contract. If gratuity is not included, tip 15-20 percent of the entire food and beverage bill, or $200-$300 for the maître d'.
Wedding Reception Attendants
Your wedding reception attendants could include bartenders, waitstaff, parking attendants, and bathroom and/or coatroom attendants. The rules for tipping your wedding reception attendants are usually dictated by your contract. If the service fee is included, consider offering extra only if you received exceptional services.
If it's not included, find out how many attendants will be working your wedding ahead of time and calculate on a per-person basis. Your tipping protocol should include 10–20 percent of the liquor or food bill to be split among bartenders or waiters respectively, $1 per guest for the coatroom attendant, and $1 per car for parking attendants.
Officiant
Oftentimes, officiants won't accept tips, but a $100-$500 donation to their church is a great way to thank them! If the officiant is non-denominational, consider giving them a $100 tip, especially if they aren't charging for your service.
Hair and Makeup Artist
For your hair and makeup artist, a 15 to 20 percent tip is expected, just like it would be for any other regular salon visit! Make sure to tip your beauty stylist right at the end of his or her services.
Band or DJ
Offering a 10 to 15 percent tip to your band or DJ is a kind gesture if they have to carry a lot of heavy musical equipment from one location to the next. For musicians, a $25 to $50 tip per band member will work fine! As a side note, don't forget about any sound technicians or lighting experts.
Transportation
For your transportation services, a 15 percent tip is optional if it isn't already included in the contract! Make sure to stay knowledgeable about what contract you may have, as you wouldn't want to forget to tip any vendor that helped to make your big day possible.
Florist
Your florist won't expect a tip! However, if they do a phenomenal job, you can consider giving them a 10 to 15 percent tip after their services are completed.
Cabaret Tent and Party Rental: Your Premier NYC Wedding Equipment Rental Service
Here at Cabaret Tent and Party Rental, we're proud to offer the best selection of wedding equipment rentals in New York City, NY! From fully equipped portable bars and glassware to gorgeous outdoor wedding tents that will keep your party going all night long, Cabaret Tent and Party Rental is your one-stop-shop for wedding rental equipment!
Our wedding rentals include:
Contact Cabaret Tent and Party Rental In NYC Today!
Searching high and low for the best wedding rental equipment rentals in NYC? Look no further than Cabaret Tent and Party Rental! With over 30 years of in-depth experience creating unforgettable wedding ceremonies and receptions, we guarantee that our party rentals will go above and beyond your expectations. For more information on our unique wedding rentals, don't hesitate to get in touch with us today! We look forward to helping you create a special day filled with unforgettable memories!