Many people might think you were crazy for choosing a winter wedding date – no matter what part of the country you live in. But, in reality, a winter wedding can offer a one-of-a-kind experience for you and your guests. Venues and vendors are often more affordable and you can embrace the season through decorations, food and entertainment to throw an unforgettable event. Here are a few things to keep in mind as you begin planning your winter wedding.
Winter Weddings Can Save You Money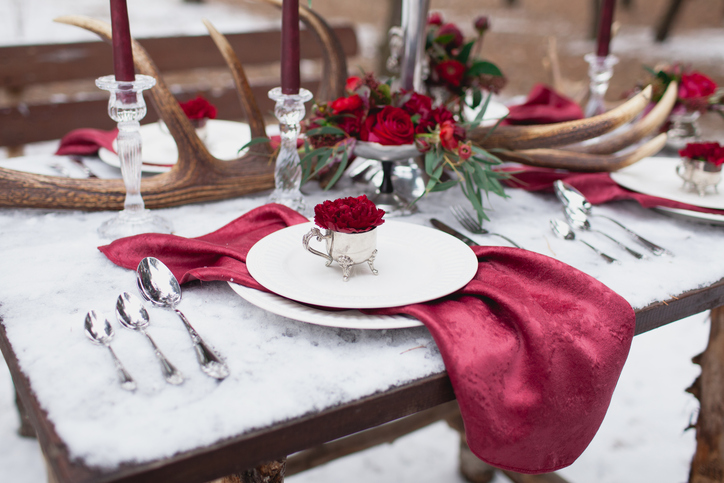 Since most brides choose early summer or fall for their special day, you'll find vendors on high demand during these months. It's often difficult to book the venue, caterer or baker that is your first choice unless you reserve them considerably in advance. On the contrary, vendors like the DJ, caterer, party supplies, and photographer often lower prices during the winter months, or they may be willing to negotiate costs.
The venue can also be on high-demand during those peak wedding months. It is likely much more available in the winter, and you may save some rental fees which could be significant since this is usually the largest expense item for a wedding. There's also another plus to choosing a venue perfect for a winter wedding. If you choose a mansion or estate, winter is the perfect time to create that cozy, warm feeling. And, if you're keeping with a holiday theme, there is the chance that the venue may already be beautifully decorated, saving you thousands. Also, consider high-demand outdoor locations like New York's Central Park that can be more easily and affordably obtained and transformed into a winter paradise with the rental of a heated tent.
Make Plans for the Worst-Case Scenario
If you're planning a winter wedding, you will want to have the answer to the most important question from all your vendors – what happens if there's a blizzard on your wedding day and no one can get there?
To be prepared, you need to ask that "what if" question to all of your vendors including your DJ, caterer, photographer, videographer, party rental store and find out what their policies are. Some vendors will allow you to reschedule to another date at no additional cost, providing that they are available on that date. You might consider purchasing wedding insurance in case you have to cancel or postpone due to a heavy snowstorm, ice, heavy fog or rain. Most policies will protect you against losing your deposit money due to a weather-related cancellation, meaning that you can then book a new vendor who is available on your new date without having to pay extra.
Be Understanding If Some Invited Guests Decline
While you may be planning the wedding event of your dreams and could not fathom why any of your friends or family would not move heaven and earth to attend, others may see things differently.
Your elderly and out-of-town guests might be more likely to decline your winter wedding invitation on the chance that the weather conditions may turn inclement.
Some guests will discover that your wedding interferes with their previous travel plans, or their traditional holiday outings and will not want to come.
Finally, some people simply may not be able to afford to come to your wedding if their budget is tight (it is an expensive time of the year what with flights and gifts and all).
Embrace the Winter Season
If you still have your heart set on a winter wedding, go all out and embrace everything wonderful and a winter wonderland wedding! Through these tips, you will find your event will be the most unique and memorable wedding event ever.
Guest Comfort Comes First. Check with your venue or church ahead of time to make sure the building will have had time to warm up before your ceremony or reception. If you expect there to be a chill, set out a few blankets for your guests to cozy up in. Avoid making your guests stand around in the cold, such as in between the ceremony and reception. Also, make sure it doesn't get too hot inside the venue. Temperature can be a difficult thing to adjust perfectly this time of year, so it definitely needs real consideration.
Photography. If you have a long list of relatives and friends you want in your photographs – and you want those photographs taken outside – keep in mind that not everyone can look cheerful while their teeth are chattering. Also, be mindful of how early it gets dark in the winter. Consider holding your ceremony earlier in the day, so you can ensure you have enough time after the ceremony for outdoor group shots. If you know you want glowy, bright wedding photos, talk to your photographer ahead of time to make sure he or she thinks this is possible based on your venue for the time of year. Look at your potential venues around the same time of year, if you're planning well in advance, to get an accurate feel for precisely how it will look on your big day.
Colors. Winter color schemes can be beautiful, but the season does lend itself to different pairings than summer weddings. If you're opting for a pre-Christmas wedding, reds and greens can be charming instead of garish if you opt for muted tones or mix in metallics or bits of nature like pinecones or boughs. Into the new year, keep those muted tones going, with peachy pink or dusty greens, and you'll avoid the "Frozen" look.
Food & Beverage. Consider offering hearty, warming food, (spiked) hot chocolate, eggnog, and mulled wine instead of salads and Prosecco. Winter is generally the time of year when people have more of an appetite, so make sure to provide tasty refreshments and drinks throughout the day in order to avoid hungry guests.
Decorations. It's okay to become obsessed with snowflakes, frosted branches, and icy blue lighting. Winter is a magnificent time of year to infuse deep and vivacious color into a wedding — and it doesn't have to be all green and crimson either. Don't be afraid to experiment with color. You shouldn't be prisoner to a palette of winter greens, reds, and whites. Selecting other colors might seem counterintuitive, but can create a charming and surprising setting for your guests. Fill your reception hall with the romantic glow of candles. This will add a warm ambience to your day. Consider plush, soft textures to cozy up the space.
Flowers. This is one area that may not be less expensive for your winter wedding. Note: With fewer flowers in season, you may have to pay a premium if you desire summer, spring or tropical blooms. Of course, you can create lovely arrangements from winter-season flowers as well. Talk to your florist about what's in season in the winter, and work from there. Greenery like eucalyptus lends itself well to a winter wedding, and branches can be downright elegant and inexpensive as centerpieces. And where you can't go overboard with flowers, you certainly can go wild with candles. With the darker, shorter days, candles will make a bigger impact than a summer wedding starting much earlier.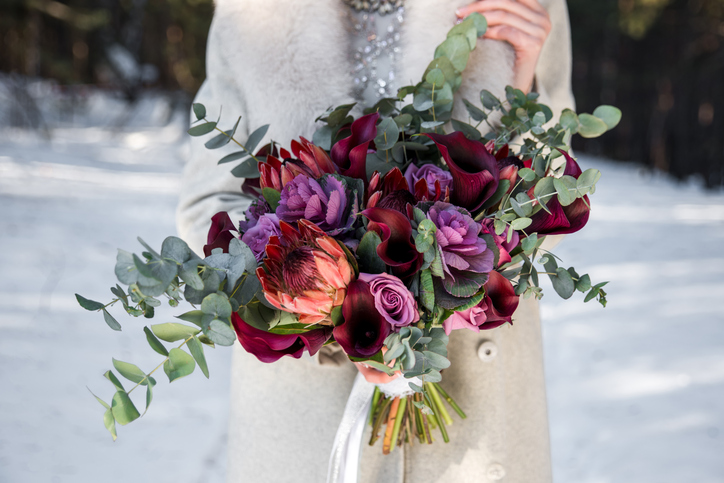 A winter wedding can be a whimsical affair as you transport your guests out of the cold and into a warm, magical place of everlasting love. Start making a checklist of everything you will need for your winter wedding and plan a little magic for your guests. If you need expert party planning assistance, consider the party planning specialists at Cabaret Tent and Party Rental. They've been planning weddings in the New York City area for more than 35 years.