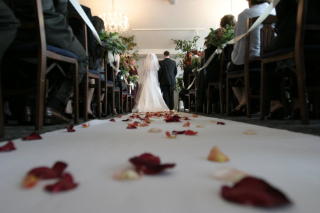 With over thirty years of experience providing the best wedding rental equipment in the Tri-State area, our team at Cabaret Tent and Party Rental knows the ins and outs of making sure your wedding day is one to remember for all of your guests. For all of you social butterflies out there, our party planning team knows that your wedding guest list can skyrocket rapidly!
With so many people celebrating and so little time between your hectic wedding ceremony timeline, it can be a challenge to make all of your friends and family feel included during your big day. Here at Cabaret Tent and Party Rental, our staff has put together a comprehensive list that details how you can ensure all of your guests are provided with an intimate setting that makes them feel included from start to finish!
Get Your Pre-Wedding Party On
A simple way to ensure that all of your friends and family feel included is to have plenty of get-togethers and pre-parties prior to your wedding! By hosting smaller, more intimate events that lead up to your big day, you'll be able to interact closely with different groups of people that will also be invited to your actual ceremony. Bridal showers, bachelor/bachelorette parties, and rehearsal dinners are all great opportunities to mingle and show your appreciation early on for all of your wedding guests.
Create A Wedding Event Space That Feels Intimate
Regardless of what venue you end up choosing for your wedding, there are ways to arrange the layout of the room to make the space feel more intimate! Feel free to play around with ceremony seating arrangements and where the altar will be, as making a big space feel smaller is an easy way to make all of your guests feel like they are important and included!
Make Your Wedding Guests Feel Welcome Right Away
From hors d'oeuvres to a pre-ceremony cocktail hour, make sure your wedding guests feel at-home right when they walk through the doors at your event space, church, or outdoor wedding venue. Providing an open bar with free drinks and beers as well as snacks are all great ways for your guests to relax right away! Here at Cabaret Tent and Party Rental, we offer high-quality portable bars and glassware that will match perfectly with your wedding decor, helping you set the mood for all of your guests from the moment they arrive.
Greet Your Wedding Guests Right After The Ceremony
Taking the time to greet each and every one of your guests after the ceremony is crucial to making them feel included! Whether you choose to have a receiving line, or you and your partner go table to table to say hello for a few minutes at a time, you want to make sure that all of your friends and family feel welcome and are happy to be there.
Make Your Food Service A Social Affair
All of your wedding guests will have the ability to mingle with one another if you provide catering services that offer various stations and self-serve buffets! Instead of remaining seated during your entire reception, your guests will have the chance to walk around and dish up their own plates while chatting with other guests at the same time!
To make sure your guests have the best dining experience possible, Cabaret Tent and Party Rental offers table and chair rentals of all types and sizes! From mahogany chiavari chairs, to circular banquet tables, we're positive your guests will have a great experience on your wedding day.
Cabaret Tent and Party Rental: Your One-Stop-Shop For Wedding Rentals!
At Cabaret Tent and Party Rental in New York City, we're proud to offer the best selection of wedding equipment rentals in the entire Tri-State area! From fully equipped bars and glassware, to beautiful outdoor tents that keep your party going well into the night, Cabaret Tent and Party Rental is your premier source of high-quality party rental equipment.
Our world-class party rentals that will compliment your wedding include:
Get In Touch With Cabaret Tent and Party Rental Today For All Your Wedding Needs!
No matter how many guests you decide to invite to your wedding, we are positive that you can make each and every one of them feel included during your big day! For more information on top-tier wedding rentals in New York City, don't hesitate to get in touch with one of our team members here at Cabaret Tent and Party Rental! From our entire staff to you, we can't wait to help make your wedding day as special as possible!