You've got the tent, the flowers, the cake, the caterer. But have you thought about the dancing at your wedding, reception or next big event your planning? Whether you are having your wedding or corporate event inside or outside, renting a portable dance floor is the best way to provide safe and comfortable dancing for you and your guests that you won't have to worry about.
Most party rental companies, like Cabaret Tent and Party Rental in New York City, have a few choices both in type of dance floor and size. Dance floors are usually rented in modular sections so you can put as many pieces together as you need in whatever configuration works for your space. Edging is placed around the outside of your floor for easy movement on and off.
To create the best experience for your party guests, there are several things you should consider when choosing your dance floor:
How many guests you are entertaining
What the demographics are of your guests (ie age, family or friends, business colleagues, etc)
What is the capacity of your party room (with and/or without a dance floor)
What type of material fits best with your event (birch, parquet, black and white, clear, marble,)
What type of lighting in party space
How high are the ceilings
How important dancing is at your event
Where the band or DJ will be located

These considerations will help you make the best choices in type and size of dance floor.
What Type Of Dance Floor Do You Need?
There are many different types of dance floors available for rent. The type that you choose should depend on the style, function and purpose of your event; and also your budget! On the high end, consider renting an illuminated dance floor. This floor is lighted creating a high-end club feeling at your event. Another expensive option is a marble dance floor. This can lend an elegant touch to a wedding or expensive fundraising dinner dance. If you're looking for a less expensive elegant and fun option for a dance floor, consider renting a black and white checked floor. This smooth and striking option is great for a classy wedding or fun theme party. There are many wood and wood-like options to choose from in a dance floor including floors made of birch and parquet or wood laminate floors that are smooth and imitate wood. With these options, consider creating a unique experience with lighting on the dance floor – you can project shapes, patterns, even your monogram to create the perfect atmosphere for your dance.
What Size Dance Floor Should You Rent?
Big is not always better when it comes to dance floors. Most guests don't want to feel like they are the only ones on the dance floor and the spotlight is on them. That's why it's important to consider how many of your guests may opt to do a little jig during your event. A good rule of thumb is to figure about 30 percent of your guests will be on the dance floor at any given time. This number could be higher if you know that most of your guests will be dancing.
To determine the size of your dance floor, you may also have to take into consideration how much space you have. Do you need to uses the dance floor for dining and then "turn" the space for dancing? You will want to measure the space that you have and consider how much you can allot to a dance floor. Once you have the dance space dimensions, convert the measurement to square footage by multiplying the two measurements. If you have know space constrictions, there's a chart below that can help you determine the approximate size you may need for dancing.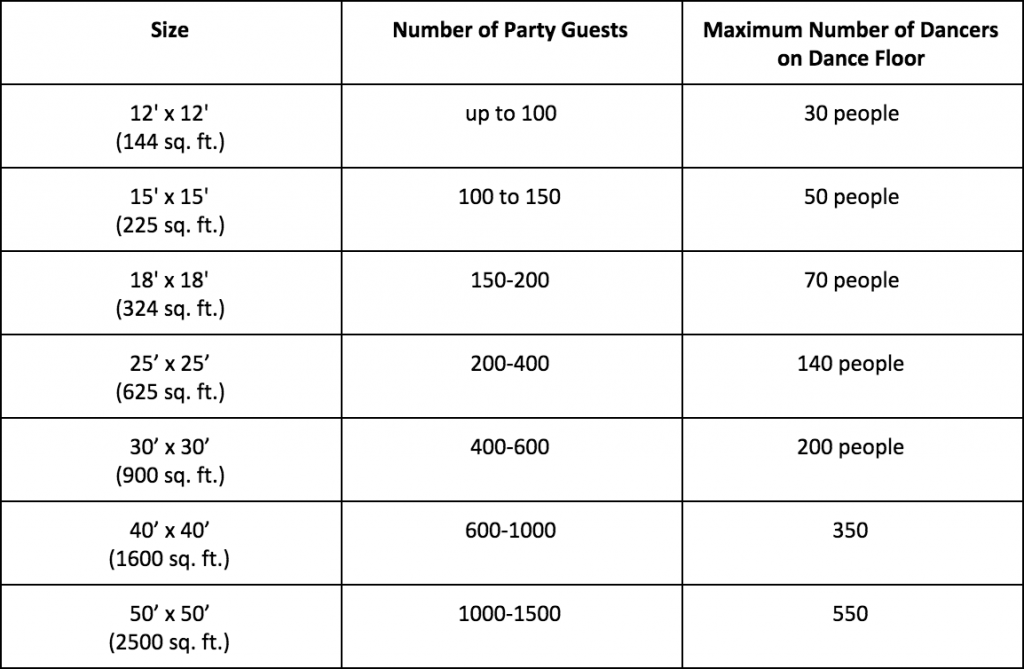 Find Your Perfect Dance Floor at Cabaret Tent and Party Rental
If you're confused about choosing a dance floor, or renting a tent, chairs or any other aspect of your party planning, turn to the professionals at Cabaret Tent and Party Rental. They have the dance floor and other equipment you need and can guide you through the decision-making process so that you have the perfect dance floor and equipment that fits your specific event needs. Contact the party planning professionals at Cabaret Tent and Party Rental today at (718) 356-8500 and dance the night away!