If you're in charge of organizing the next spectacular party event, unleash your creativity with the myriad of options available today! One of the most prominent focal points at your party or wedding reception is the lighting. Great lighting can completely change the look and feel of any wedding venue and more and more brides and party planners are choosing from the wide variety of chandeliers and lighting options available at Cabaret Tent and Party Rental to make their event extra special. Imagination knows no limits when it comes to the different types of wedding chandeliers, pendant lamps, hanging globe and filament lamps as well as table and floor lamps available – all spectacular in their own style.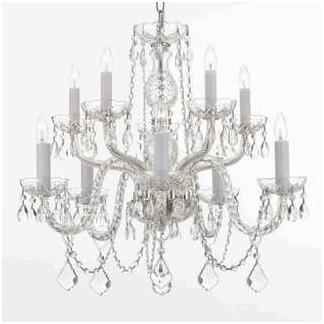 Chandelier & Other Lighting Options Are Available For Indoor Or Outdoor
Chandeliers have become a staple for indoor venues, with built-in crystal illuminations that add elegance to both ballrooms and barns. But even if your venue doesn't already have chandeliers, you can add your own glamour and height with chandelier rentals like the ones at Cabaret Tent and Party Rental in New York City. And don't think that because your event is outdoors that you can't add chandelier lighting to the party. Where there's power, there's a way! Strong tree limbs? Gazebo? Archway? There are always technical solutions to hanging chandeliers from a tent or even from outdoor, open-air venues. Your event planner likely has experience in making lighting work at any venue and can be a great resource as you plan your event. Just make sure you clear your plans with your venue manager first!
Creative Chandeliers For Every Style
Bring your creative vision to life with chandeliers that can help add a unique finishing touch to your wedding or party with so many designs. And don't be afraid to add things to your chandelier. From antiques to woodsy works of art, chandeliers of all shapes and sizes are adorning tents, trees and reception venues alike. Here are some of the most popular ways to incorporate chandeliers into your next event:
Create an exoctic design
Make your chandelier rental unique by mixing shapes and sizes. If you're going for a streamlined design try to two or three different styles. For outdoor exoctic, consider a white deer antler chandelier.
Create a rustic chic look
Add natural greenery and moss, string lights and hanging crystal accents, to a white antique chandelier and you'll have an attention-grabbing focal point that fits right in with its rustic barn backdrop.
Add fresh flowers and/or vines
Use your favorite flowers and/or green vines to a crystal chandelier to add romance. Some favorites include garden roses, peonies, and baby's breath.
Go Old School With An Edison Bulb Chandelier
Use some simple green garlands to soften this otherwise industrial-looking iron structure with oldtime Edison bulbs for a dressed up outdoor party.
Whimsical enchantment with ribbon or fabric
With or without the light from a traditional chandelier, adding long flowing ribbons or lightweight billowy fabric to your chandelier can make a beautiful statement. These options are easy to install and their length can be customized to fit even the tallest-ceiling.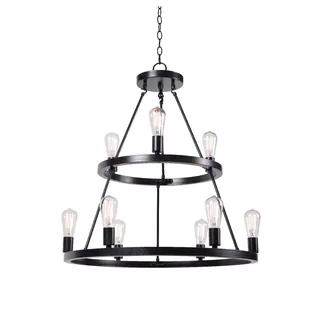 Find All Your Party Needs At Cabaret Tent and Party Rental
Whether your event aesthetic is glam, rustic or somewhere in between, a chandelier can be a wonderful way to create a little drama and dimension. Cabaret Tent and Party Rental in New York City is a trusted source for many of the city's most prominent event designers and producers, as well as major motion picture studio and television networks. Discover all of the rental options available at New York City's number one party rental place! Besides lighting rentals, Cabaret Tent and Party Rental is known for it's huge selection of tents, drapery, chairs and more! Use our convenient online form to get a quick quote. Or, give us a call at (718) 356-8500. Let us help make your party lit.