Whether you are just beginning to plan the wedding of your dreams or you are almost to your wedding day, you've learned that there are hundreds of tiny details that must be remembered in order for the day to unfold with perfection. As a company that's been planning perfect weddings in the New York City area for more than 35 years, the event planners at Cabaret Tent and Party Rental have compiled their top 12 details that most brides tend to forget. Now you won't!
Details To Remember Before The Ceremony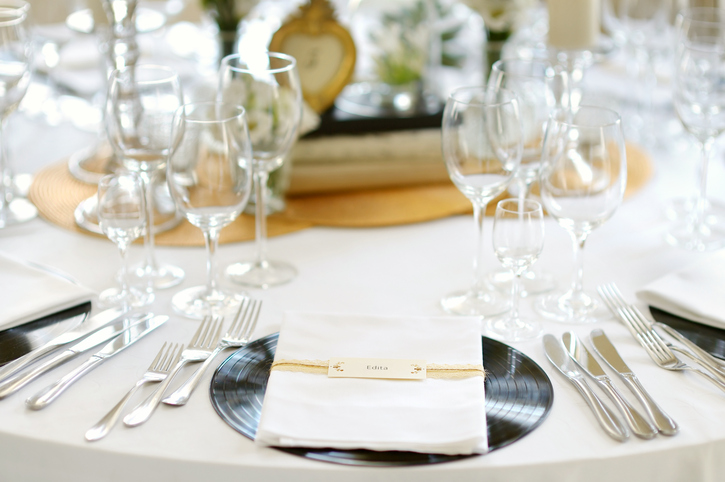 1. Build a wedding web presence prior to mailing your save-the-dates.
One of the first tasks to accomplish when you get engaged is to set up a website for your upcoming wedding. In the beginning, you can throw up a few pictures of you and your betrothed. The important thing is to have a website address, or URL, that you can put on your "Save the Date" cards or correspondence that you send out. That way, your guests can bookmark a one-stop place to find out the ongoing details of your special day. Later, you can add helpful information for guests traveling from out of town, links to gift registries, etc.
2. Create a Detailed Schedule.
You will obviously have the timing of every detail memorized. However, your wedding party and your guest may not. Take the time to write down a timeline of everything that will happen on your big day. Include information for both the bridal party and your other family members on the timing of family photos (before or after the ceremony? At the reception?) When does the sun set for the perfect "golden hour" photos? Also include the timing of individual components of the event – bridal party arrival time, venue opening for guests, cocktail party begins, dinner served, band begins, first dance, literally everything should be timed perfectly and communicated to avoid confusion. Give the timeline to your designated person in charge and all of your vendors so they can help make sure things run smoothly. Also know what the temperature for your wedding day is historically and have a plan for inclement weather – whether you have a tent rented or need additional a portable A/C unit – so a 100 degree day or a few raindrops won't put a damper on the festivities. If the idea of a tent has caught your interests a good recommendation is Tipi Unique – if anything this site will just give you some ideas of what you actually want on your wedding day.
3. Accommodate Your Guests' Special Needs.
When sending out invitations, be sure to inquire about any special needs your guests may have and make arrangements to accommodate them. Whether your cousin from out of town is a vegetarian, your mom's best friend requires a gluten-free diet, or Grandma needs a ramp, you'll want to plan those details so that everyone is happy and comfortable come wedding day. Give this list to your caterer by seating chart so they can be served without missing a beat. Also, make sure your guests are comfortably seated both at the wedding and reception. It's normal for guests not to crowd into a chair next to someone else, so if you've had 200 people RSVP for your wedding and you're setting up chairs, make sure they can accommodate approximately 10 percent more people than expected. Also, consider whether you need to rent separate chairs for your reception in case it's not practical to repurpose your ceremony chairs for the reception.
4. Designate Transportation Managers.
Make transportation arrangements for the bridal party if you need to get from the place you're getting ready to the wedding venue and/or to the reception venue and designate one person in each vehicle to be the navigator. The last thing you need is for half of your bridal party to get lost in transit.
5. Pack Two Extra Bags.
Besides whatever honeymoon luggage you may have, set aside two additional bags to pack for your wedding day.
Bag 1: Wedding Day Emergency Kit – Put together a wedding prep emergency kit of anything your bridal party might need while getting ready before the wedding. Consider including a phone charger (both for iPhone and Android), bobby pins, a sewing kit, clear nail polish, safety pins, extra hose, bandages, aspirin, antacids, tissues, antiseptic wipes, hairspray, blow dryer, flat iron, stain stick, double-sided tape, dental floss, toothbrush, tweezers, razor, breath mints. Pack your marriage license in this bag to insure you don't forget it!
Bag 2: Wedding Night Bag – In this bag, pack whatever you may need for your first night as a married couple – lingerie, toiletries, change of clothes, etc. Then, have someone deliver it to your wedding night room. You won't want to lug your heavy suitcase anywhere and you won't have to worry about not having it when you finally retreat from your special night.
6. Write a Thank-You Speech.
Limit your speech-giving opportunities to a few – usually the Best Man and Maid of Honor. But, you may also want to consider taking an hour or so to write down a few words of thanks to your parents, bridal party members and others who helped and supported you through your wedding planning and will continue to support you in your new life. Then, give all of these written speeches to your wedding planner or designated person, just in case nerves get the best of you and your memory flies out the window.
Details To Remember For Your Wedding Day
1. Designate a Point Person
You don't need to go out and hire a high-dollar wedding planner, but you absolutely must choose one person who knows exactly how you want your special day to unfold and has the power to make it happen. This person must not be a member of your bridal party, but must have all of your vendor's contact information and arrangements, and the ability to answer questions from vendors and guests. This person can also either be in charge, or appoint someone to, take care of your gifts and cards, making sure they are transported somewhere safely for opening later.
2. Choose a Photographer's Assistant From The Family
Along with a point person, think about choosing someone in your family as a helper to grab the family members up next on the shot list that you've furnished to your photographer. While most photographers will bring along his or her own stylist, having an aunt, cousin, or sister who knows the family members will make it much easier to make sure you quickly get the photos that you want. This will allow you all to stay on track with timing and and allow you to enjoy just looking beautiful.
3. Bring Extra Cash
You will undoubtedly need cash on your wedding night for several different reasons. For starters, you never know where your wedding night may take you so having some extra cash in your clutch is a good idea. Also, you will want to tip some of your vendors. It's often easiest to organize these gratuities in clearly marked envelopes and give them to your point person. With the exception of the catering staff and possibly the venue, tips are considered a nice surprise by almost all vendors. So, whether it's your photographer, your hairstylist, or your DJ, decide who and how much you want to give and have it prepared in advance. While priests often will not accept a tip, a donation to the church is rarely turned away. Lastly, keep some emergency money in an envelope for last-minute store-runs or tips for vendors who stay late.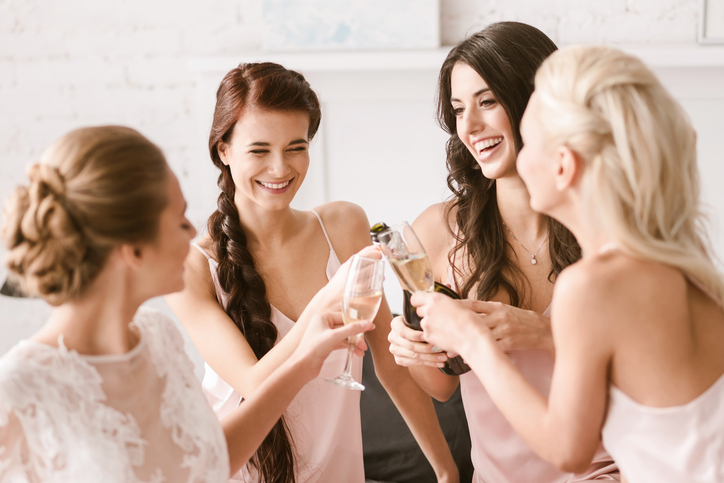 4. Feed your bridal party:
Wedding days are busy days for you, the groom, your bridal party and your entire immediate family. Make arrangements to have lunch available and other snacks and take time to eat either before or during your wedding preparations. Also, don't skip breakfast. You will need as much energy as possible on your wedding day, so plan sandwiches, chips, fruit, and other snacks to give you the boost you need to make it through the evening.
5. Carry On Traditions
Don't slack on traditions by waiting until the last minute to find "something old, something new, something borrowed, something blue." Gather your family heirlooms or other gifts – whether it's your mother's earrings or your grandmother's veil, and make sure you assign someone to be in charge of transporting them to the venue and keeping them safe until ready to use. If your wedding ceremony contains other celebratory or religious traditions, be sure you offer a program that allows your guests to know and understand what is happening and why.
6. Eat, Drink & Be Merry!
Prepare your food and drink in advance, and choose a catering company who is located close to your wedding. For example, if your wedding is out in Perth, then consider a company such as Elegant Touch Catering who service the local Perth area.
After spending a year or more obsessing over your wedding, it's time to step back and enjoy! The night will speed by faster than you can imagine, so take a deep breath and soak it all in. Enjoy visiting with your family and friends, cutting it up on the dance floor, and generally being the center of attention. And for goodness sakes, sit down and have a piece of wedding cake before the night is over!
Want to worry less about your wedding and more about enjoying your once-in-a-lifetime day? Consider using the party experts at Cabaret Tent and Party Rental for all of your wedding reception needs. As the best party rental company in the New York City Area, Cabaret Tent and Party Rental has tents of all types, tables, chairs, dance floors, dinnerware and so much more. Check out their selection at cabaretpartyrental.com or call one of our expert party planners at (718) 356-8500.