New York City is known for its iconic landmarks, bustling energy, and diverse cultural scene. With its unique character and stunning backdrops, it's no wonder that many couples choose to tie the knot in the Big Apple. If you're planning a spring wedding in New York, there is a full guide of what you need to know: 
Location, Location, Location
One of the most important decisions you'll make is choosing the perfect location for your wedding. New York City offers an abundance of options, from luxurious hotels to charming rooftop gardens. You'll want to consider your budget, the size of your guest list, and the vibe you want to create when selecting a venue.
The biggest thing to remember is that outdoor weddings are the popular thing on the block, creating an intimate setting and providing your guest with plenty of room to mingle and activities to ensue.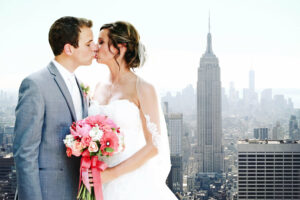 Timing Is Everything
Spring is a popular time for weddings in New York City and for good reason. The weather is mild and the city is blooming with cherry blossoms and other seasonal flowers. However, it's important to keep in mind that the weather can be unpredictable, so have a backup plan in case of rain or other inclement weather. With Cabaret we have both climate-controlled tents and sidewalls to make sure that the show will go on. 
Additionally, consider the timing of your wedding in relation to other events happening in the city. For example, the annual Tribeca Film Festival takes place in April, so you may want to avoid scheduling your wedding during that time if you're expecting a lot of out-of-town guests.
Embrace the City's Energy
One of the best things about getting married in New York City is the city's energy and vibrancy. Embrace the unique character of the city by incorporating it into your wedding. Consider hiring a New York City-based wedding planner who can help you incorporate local elements into your wedding, such as a Brooklyn-based caterer or a jazz band that plays New York-style music.
Additionally, consider incorporating iconic New York City landmarks into your wedding photos. Central Park, the Brooklyn Bridge, and the Empire State Building all make stunning backdrops for wedding photos that you'll cherish for a lifetime.
Planning a wedding can be stressful, but with careful planning and preparation, your New York City spring wedding can be a truly unforgettable experience. With its stunning backdrops and endless opportunities for adventure, your New York City wedding is sure to be a day you'll never forget.

If you have any questions or are wanting to get your event booked and have the best tent rental service in New York contact us today.