A product launch event is an important opportunity to showcase your brand and introduce your new product to the world. But putting together a successful product launch event takes careful planning and execution. Here are some tips for putting together the best product launch event possible.
Choose the right venue 
The venue you choose for your product launch event will set the tone for the entire event. Choose a venue that reflects your brand and the image you want to convey. It should also be able to accommodate your guest list and provide the necessary equipment and amenities.
The biggest way to ensure that your event is upbeat, guest friendly, and stands out is to take it outside. We see far too often the launch event that happens in a hotel conference room. Take your event to the next level and plan a fun interactive event that allows guests to mingle while not feeling crammed into a room. We can help set up your event so all the vital items are there to launch your product. We have everything from tents to platforms & staging.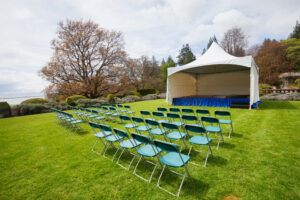 Create a memorable theme
A theme can tie your event together and make it more memorable for attendees. Choose a theme that reflects your brand and the product you're launching, and incorporate it into every aspect of the event, from the invitations to the decor to the catering.
Creating the perfect theme is the focal point of your product launch. It is what will tie everything within the event together and leave guests and visitors in awe and have a lasting memory of your event. 
Provide engaging content
Your product launch event should be more than just a sales pitch. Provide engaging content that educates and entertains attendees, such as product demos, guest speakers, or interactive exhibits.
Give attendees a reason to try your new product by offering incentives like free samples, discounts, or exclusive offers. This can help generate buzz and excitement around your product launch.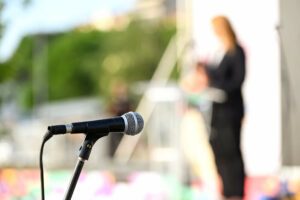 Follow up with attendees
After your product launch event, follow up with attendees to thank them for coming and provide more information about your new product. This can help turn attendees into customers and generate more buzz around your brand.
Putting together a successful product launch event takes time and effort, but with careful planning and execution, you can create an event that showcases your brand and generates buzz around your new product. By choosing the right venue, creating a memorable theme, and providing engaging content you will have a successful event and a promising start to your new product launch. Get started with your event planning today.