Weather is unpredictable, and can sometimes cause tough conditions for your weddings, festivals, or corporate events. At Cabaret Tent and Party Rental in New York City, our team provides a wide range of tent rentals with climate control for comfortable heating and cooling. Our tent structures, both small and large, can be equipped with state-of-the-art HVAC units for nearly any occasion!When you rent any tent from Cabaret Tent and Party Rental, you never have to worry about setting things up correctly, or not having your tent ready in time for your guests. Our qualified installers take all the worry out of setting up your tent, installing an A/C unit or our Director 300 heater in the exact location you desire. We'll make sure to show you how to control the thermostat as well, ensuring you are comfortable with the climate control process before our team leaves the premises.
Beat The Heat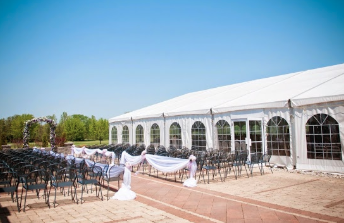 Cabaret Tent and Party Rental provides a variety of portable HVAC units for our climate-controlled tents, all specially designed with your event in mind. No matter what location you choose, or what the climate is like in NYC, the structure of our tents make it easy to install A/C units anywhere. When our A/C units are mounted in place, they sit perfectly flush with the tent walls, providing a professional look that allows for optimal space both inside and outside the tent.
If you're worried about your guests melting away in the humidity of the summer months, you can add sidewalls with air conditioning and cooling fans to any of our tent rentals. Not only will our A/C equipment cool down your guests, it will also remove any excess humidity, making the hot air feel less sticky!
Our A/C Options
Cabaret Tent and Party Rental offers three different tent air conditioning options, helping you stay cool in any climate:
Fans – Cabaret Tent and Party Rental can add pedestal and floor fans to your tent to help circulate the air, keeping your guests cooler when temperatures are mildly warm.
Portable Evaporative Cooling Systems – These spot coolers are recommended if you only need to lower the temperature less than 20 degrees. They blow out a cool mist that hits your hot skin, lowering your body temperature as the mist evaporates. They don't require as much electricity, and can disperse cool air up to 100 feet. Clearly, these are not recommended for formal affairs.
Portable Air Conditioners – For more formal occasions, opt for the portable air conditioners. These units will drop the temperature inside your tent 30 to 40 degrees, as well as reducing the humidity levels. They come with a thermostat so that you can adjust the temperature inside the tent to your liking.
Fight The Cold
Whether it's your own backyard, or a spot in Central Park, our heated tents can warm up even the coldest of nights. At Cabaret Tent and Party Rental, we're not providing our clients with small, ineffective space heaters; our Director 300 tent heaters indirectly fire 259,000 BTUH of heat to keep your guests comfortably warm all night. With an easy-to-use thermostat, you can adjust the heat back and forth to your guest's preferences.
In addition, our ductable Director 300 heater features a fuel-saving, high-efficiency heat exchanger with a 28 gallon fuel capacity, giving your event up to 13 hours of uninterrupted warmth. Our heater is ideal for supplying you with dry, clean, and heated air in your tent for as long as you need, giving you and your guests the best experience possible.
Types Of Events That Require Climate-Controlled Tents
At Cabaret Tent and Party Rental, our team is dedicated to making all of your parties and events as comfortable as possible! With a long history of creating incredible events of all sizes, we have the knowledge and expertise to meet all of your climate-controlled tent rental needs. Whether you're looking for the perfect tent to host your wedding, canopy tents for an outdoor music festival, or a large marquee tent for your corporate party, we're here to help keep you warm, or cool you down:
Contact Cabaret Tent and Party Rental Today!
Our mission at Cabaret Tent and Party Rental is to help you feel as comfortable as possible, making your event go off without a hitch! Whether it's the sweltering heat of an event during the summer afternoon, or a bone-chillingly cold event during the dead of winter, we're positive we can provide the best portable HVAC units for any one of the tents we offer! If you are planning to rent a tent from us during any uncomfortable or unpredictable weather, don't hesitate to ask us about our HVAC units. From our entire team at Cabaret Tent and Party Rental, we can't wait to help you achieve the event of your dreams!